The Search For Decking Professionals Near Vancouver Is Over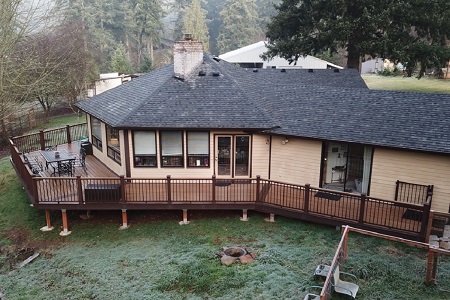 A beautiful deck is a tremendous asset to any home, building home value and providing an enjoyable outdoor environment. Whether for entertainment or relaxation, a deck will become a haven and an extension of your home. The perfect porch deck allows you to enjoy your house as much as you appreciate it.
Our family-owned and operated enterprise is ready to help you make this dream a reality. That's why Busy B's Exteriorwood Construction has become the premier deck company in Vancouver, Washington. Our decking experts have over 30 years of experience in designing and building quality decks, serving Vancouver and the surrounding area since 1986.
After we finish building, we provide cleaning and care services for all of our clients. No matter where you live in southwest Washington, we can help you maintain your new porch deck so that it will withstand any weather conditions.
---
We Are Your Custom Decking Experts
With 3D rendering, we can create any high-end custom deck your heart desires, whether one-floor, two-floors, staircase or no staircase.
We create all of our custom designs based on your home and the surrounding terrain with a wide range of wood, PVC and other composite deck materials. If you have a change you would like to make, let us know, and then we will collaborate with you to find the perfect solution. Within a week of consultation, we will provide you with a mock-up of your new deck project so you have a preview of your future outdoor living space.
Unsure you'll be able to afford your new deck all in one payment? We offer in-house financing for up to one year to make your new deck a reality. Our builders don't just build and walk away, either. We offer warranty, cleaning and care services to ensure that your deck withstands the rainy weather of the Pacific Northwest.
Vancouver's Trusted Deck Builder Company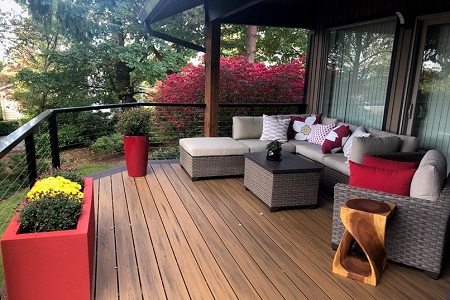 Once we finish consulting with you on the deck's design, we will start building it! The entire process takes 2-4 weeks, depending on the complexity and scale of the blueprints. Using AZEK, a composite PVC material, we have produced and will continue producing quality decks that will last for many years to come.
When you need repairs or cleaning in Vancouver, call on Busy B's to keep your deck pristine! We take great pride in our craft and will not rush to finish the job. Once our work is completed, we provide a one-year warranty on all of our installations if any problems arise.
We Install Patios Too!
While not the focus of our company, we also build patio covers for clients. We use the same high-quality materials and attention to detail in our patio covers for our decks. We can also incorporate fan beams, skylights, and ceiling fans into your design to make your patio cover even more enjoyable.
Skylights are a beautiful way to add natural light to any covered area and a great addition to your new patio cover. Ceiling fans are a must-have in any outdoor living space and can be added to your patio cover to keep you cool on hot days. Whichever feature you want on your next patio cover, we can build it for you.
---
When You Need A Professional Porch Specialist, Give Us A Call
When you need a deck company in Vancouver, Washington, you need Busy B's Exteriorwood Construction. Since 1986, we have served as the leading provider of decking services in Clark County.
We will collaborate with you to build a custom 3D mock-up that will allow you to preview your future porch deck before we begin building it. Once approved, our skilled specialists can create the right deck for you using wood, composite or PVC materials. One that you and your guests can enjoy for years to come.
Along with building gorgeous custom decks, porches and patio covers, we provide Vancouver and the surrounding area with deck repairs, cleaning and maintenance services. Contact us today and ask how we can build your home a custom deck today!