Deck Design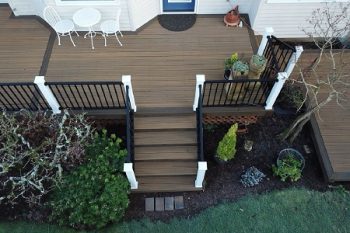 The design of your deck is one of the most important parts of the building process. There are many considerations you'll want to be aware of. Some of these are apparent, like material type, height, and size. Others you may need help identifying, like who will be using the deck, stair depth and height, and any state or federal codes your deck will need to meet. How large of a deck are you permitted to build? What is the cost of materials? These all factor into deck design for Vancouver, WA properties. At Busy B's we factor in every single one of these and many more.
View your deck before we build it!
Our deck designers are 3D CAD experts. That means we can build a digital model of your deck before we ever break ground. This allows you to see it to scale and make any modifications before work begins. There are two great options for deck design in Vancouver, WA.
Deck Design and Installation – We will design your deck, and provide professional installation with guaranteed workmanship.
DIY Deck Design – We can provide a complete deck design, materials list, and expected cost so you can DIY.
This makes deck design affordable for any home, business, or commercial property owner.
Contact us for your custom designed deck in Vancouver, WA!
Get the deck you want, designed by industry veterans. We know what safety codes need to be met, what permits need to be acquired, and we can design your deck whether or not you'd like us to build it. Providing Vancouver with the area's finest outdoor structures is our life's work. When you want affordable deck design, call or contact us today.